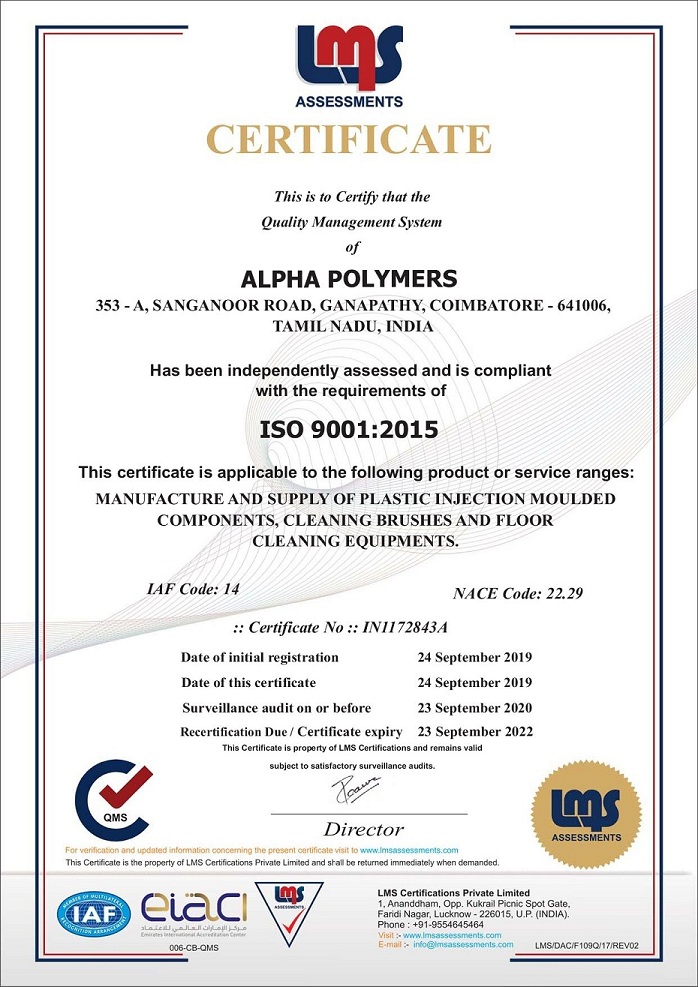 About Alpha Polymers
Alpha Polymers was established in 1986 as a precision plastic molded component manufacturer. The precision molded components were used primarily in automobile, textile and electrical switchgear industries. We have diversified into the manufacture of cleaning brushes used in floor cleaning machines.
We acquired ISO 9001-2015 certificate in 2019 and equip with state of the art facilities to produce reasonable and practical products.

BRUSH MANUFACTURING DIVISION

In our Brush Manufacturing Division, we manufacture industrial brushes specializing in the design and production of brush ware for the floor cleaning equipment manufacturers. The Company works closely with its 'original equipment manufacturers' customers, right from the initial confidential design stages, prototyping and tooling, to brush and pad holder production. It prides itself on delivering its products on time, to specification and in a professional manner.


Alpha Polymers is equipped with the latest brush manufacturing machineries which are used in conjunction with automatic trimming machines; this enables the company to produce a full range of quality brushes, in volume, at a competitive price. Only quality monofilament, fibre and bristles from approved quality sources are used in the brush construction. The range includes; Disc brushes - for scrubbing and polishing. Side brushes - for sweeping machines. Cylinder brushes - for both sweeping and scrubbing.
PLASTIC MOLDING DIVISION
The company operates fully automatic injection moulding machinery from 65 ton to over 110 tons; the items produced are precision components made to customers' specifications. The supplies include components for automobile, textiles and electrical switchgear manufacturers.
To maintain the good quality and to raise up the competition, we've been working on researching up-to-date manufacturing technology and developing better products. Because of these outstanding achievements, Alpha Polymers therefore, makes a big step ahead of other competitors.